Photographer: Austin John
People Of Color In the Modeling Industry
How often do you see a person of color in the modeling industry? Being a person of color in a white-dominated industry is a lot harder than it seems. The industry already has so many social conflicts with models being anorexic looking but racism is just a tip of the iceberg.
My name is Demi Bang and I have been modeling for 2 and a half years. I have been published internationally in 7 magazines and walked in 6 runways. In addition, I have worked with photographers and designers from Arizona, California, New Hampshire, and Utah. With all of those "accomplishments," I am still a nobody and probably still where I was two years ago. Modeling has been something I have been wanting to pursue ever since I was 13.
On the right is a picture that I took when I was 13.
At that time, I was too young to go on shoots without a parent. My mom was a full-time worker who did not have time to drive me around. I grew up in Tucson, Arizona and to be honest, the photography and modeling community was quite small. When I first got my car, I decided to go to Phoenix every other week because there was so much opportunity up here. The community in Phoenix was a huge factor as to why I decided to attend Arizona State University.
Modeling has been a passion of mine ever since I started watching America's Next Top Model. Coming from a small city like Tucson, I never realize that race was such a huge issue. I have met many incredible minority models that had experienced racial issues. A fellow model posted on Facebook, "Being a person of color in a white-dominated industry is so crushing at times". Which made me realize how racist the community is. You know how much the industry lacks diversity when you get excited to see a model who's the same race as you.
Recently on a shoot with 3 other models
The owner of the clothing company had made a statement regarding race. She stated, "I've always wanted to do kind of an 'around the world,' of a shoot. Like, have a blonde, a brunette, an African American, and a Chinese." Obviously, the Chinese comment was directed towards me. Even though I am 3 fourths Chinese, I was a bit bothered that they would presume my race without clarifying it with me. Call me sensitive, but I find that small racial comments like that seem to always get to me. Especially if it's coming from someone whom you are supposed to be professional with. Another incident happened back in 2015, I did a shoot for a local designer and she had called her "Korean princess."
If we look at local modeling agencies in Arizona, we can see there is a huge number of white girls and very few models of different ethnicity. Even if there are girls who are of different ethnicity, we can also take note that some of them are half white.
There are many reasons for why the market seems to be so white-dominated.
The market is targeted towards white people because the majority of luxury brand consumers are white people as quoted from The Guardian, "Many have suggested that the reason catwalks and magazines are so white is that designers and editors are often white, but I suspect the phrase "follow the money" is more relevant. As I said earlier, Asian models have become more prominent with the rise of the Asian market for luxury goods." It makes sense if the targeted audience sees someone who's similar to their skin, hair, and other features promoting a product. Don't get me wrong! I would totally buy shampoo and conditioner if one of my favorite Asian bloggers were to endorse it because she has Asian hair and I have Asian hair. I suppose it all depends on the market.
Of course, the modeling industry is not racist itself. If we take into consideration the photographers, creative director, wardrobe stylist, and hair and makeup artist, most of them are white-dominated. Break it down even further: the fashion industry as a whole, such as designers, they are mostly white people. If we can get more minorities to be in the process making of the garments or even the editors, we would probably see more diversity in the modeling industry.
Enough with assumptions, and let's talk statistics.
Jezebel noticed that during New York Fashion Week, 87% of the models walking in the runway were white, 4.9% were black, 5.4% were Asian, and 2.7% were Latina. That's a huge gap difference. Another incident happened with a very well known black model, Chanel Iman. She is one-quarter Korean and 3 fourths African. Iman encountered designers rejecting her due to "We already found one black girl. We don't need you anymore". Although many designers and editors have claimed that the industry is getting more diverse over the years, Jezebel has graphed the statistics to show the numbers of racial diversity. So really, has it actually gotten better?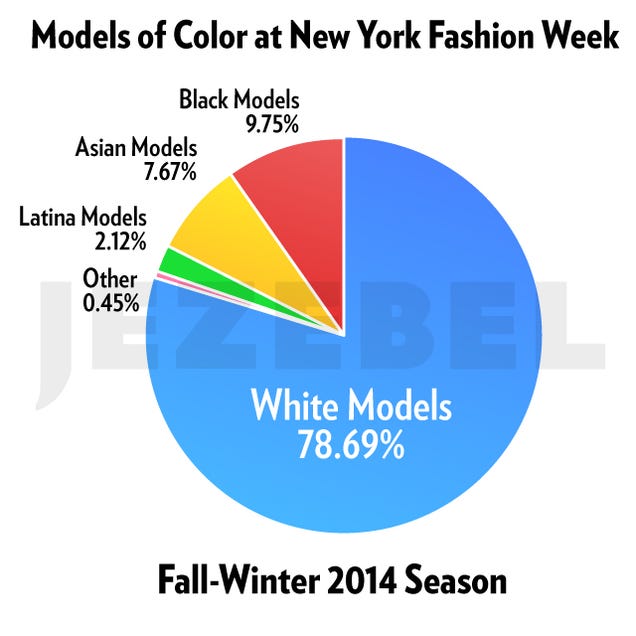 Many casting directors for runways are aware of the low diversity the market has to offer. Many directors noticed that since Asia's market is huge right now. This conclusion leads to designers will throwing in an Asian model just to target China's fast-growing market. Buzzed quotes, "You can't just put an Asian girl in your show to appeal to China. That's equally bad because a Chinese or Korean or Japanese person — they're not stupid and can tell the difference. I think people do that because they think, "Oh, China's the next big market so we have to put one in". You should just book them because they're beautiful".
Another comment that was made in the article was the lack of options of models to have been chosen from, "Rationally, you would think that if there is a demand, agencies would have to increase the supply. Logically, I would deduce that there is not a big enough demand for black women on the runway". The casting director talks about how there aren't that many different ethnicities other than white that shows up to casting calls. It's not them that is responsible for the lack of diversity but the agency's responsibility for not representing more diverse models.

Barbara Nicoli, casting director for Burberry, Gucci, and Saint Lauren, states that designers
look for a certain body type.
Designers do not usually mean to be racist or only steer towards white people. A designer had stated, "Caucasians have a specific body type, black girls have a specific body shape, and Asian girls have a specific body shape. So I guess there are some collections where it's preferred for an Asian body shape because they are flatter and less sexy, in a way. Asians, they are not curvy, so to put an Asian [who's] very flat [with a] baby body shape in a show where normally the designer knows they love sexy, beautiful, curvy girls, it's a bit of nonsense. If you do it, it's just because you have to or you want to please your customer coming from Asia".
This quote already has a flawed in it and that is 'being generalized.' Some Asians can be sexy and curvy. If we look at Justin Mae Biticon, she is a Filipino model who is represented by Ford Models, one of the top agencies out there.
So what exactly does this mean for minority models?
Do we just give in to the racist industry or do we push harder to make it out there?

Also, while I was researching, I noticed, why are there white people modeling for Asian brands? I'm not trying to say that if you're an Asian market, you should stick to Asian models, and vice versa. Even Asian brands seem to be obsessing over white models.
Check out this video of Miranda Kerr in various Japanese commercials.
Save